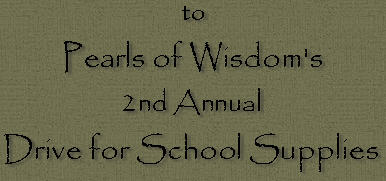 The battle for Indian children will be won in the classroom, not on the

streets or on horses.

The students of today are our warriors of tomorrow.

~Wilma P. Mankiller, Cherokee

Many of us squander precious natural resources

-time, creative energy, emotion- comparing our talents to those of others. Today ask Spirit to call forth your authentic gifts, so that you might know them, acknowledge them, and own them.

~ Sarah Ban Breathnach

Children are the living messages we send to a time we will not see. ~John W. Whitehead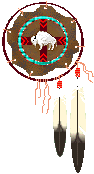 Click on sheild to skip Kickoff Letter
Though I truly have no idea whether anyone benefitted from my concerted effort last year, I am here again, asking for your help; as the needs have not changed. And with little change in the economic woes, well— let's face it! The only ones feeling the "recovery" the media is hinting at are those who never took a complete dive in the first place.
Right here, in our own national back yard, there are those who live each day in hopelessness. Who of you will become that glimmer of Hope personified?
As regards the quote above (by John W. Whitehead), we are the living benefactors of a time many will never see. But the financial hardships of late are great. And severe weather threatens our crops, our health, and the very homes and land we cherish. To the children we may never see, what legacy are you willing to give?

We are each other's harvest ... We are each other's magnitude and bond. ~ Gwendolyn Brooks.
Do not wait for leaders; do it alone, person to person. ~Mother Teresa

With what limited time I am able to spend working on such issues, last year was all about gathering the necessary information. This year I trust you will find things more concise and easier to follow.
What is new this year? There is a navigational bar at the top of each page related to the drive.
The

Drive Specifics

link is where you will find introductory information and a section of local and national Stores, with links to their

weekly ads & specials

. A helpful way to stretch and make the best use of your charitable dollars.

The

TMVCNA

link is where you will find specific information regarding the

Miami Valley Council for Native American's

yearly drive for clothing and school supplies; along with this year's itineray. There is also information regarding their association with

SunWatch Indian Village & Archaeological Park

.

Check this page for the 2009 Itinerary.

May the Creator watch over their passing

and see them safely to and from their destinations.

May Creator see them safe from harm and incident

and may their giveaways be plentiful and far-reaching.

The

Support & Adopt

link hosts several reservation schools and organizations in need of specific help.

The

Acknowledgements

link pays homage to my once corporate sponsor and fellow employees of

LexisNexis

.

And finally, there is the

Help Promote

page, where you will find assorted banners--for use on your website or blog--to help promote this drive.

For now, Thank you for visiting my site. Thank you for taking a few moments to see what this is all about. And may you gift an unsuspecting child (or children) with your ever-precious kindness.
I'm excited to see what happens!
Come what may, Mitakuye Oyasin! We Are All Related!
As in the end, we are all in this together.
Many Blessings, L.L. Abbott
for any questions, you can contact me at

Click on the Buffalo Shield to get started!